Our Parish aims to build a community which gives expression to our faith in Jesus Christ where each person feels welcomed, accepted and valued in their own right. We endeavor to achieve this by promoting a greater sense of togetherness and participation as we gather in our Church and by spreading this togetherness into our Parish Community in a way that is inclusive and all-embracing.
We want to make the Parish website an interesting and worthwhile location for both parishioners and visitors to keep up to date with what's happening in the Parish. There is information about some – though not all – of the organisations active in the parish. If your organisation is not listed, please get in touch – we hope to have a comprehensive list of all Parish-based activities.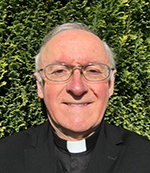 If you are from the Parish but now living elsewhere in Ireland or abroad remember you will always be part of our Parish and feel free to let us know where and how you are.
Hopefully, this Parish website will serve as an instrument of God to make the Gospel message more accessible to all its viewers and touch their hearts with the grace of the Holy Spirit who can and, indeed, often does move in mysterious ways. May the Lord bless you all and, again, welcome to Holy Cross Parish website.
Canon Donal O'Mahony, P.P.
When we enter God's house we become ourselves the home of God
Parish Station Areas
The Turretts (Church side), Love Lane, The Pastures.
The Turretts (opposite Church), The Park, Vale Close, Rathgoggan Heights,Manor Hill, Deerpark View.
Mannixville, Batt Donegan Place, Broghill Road, Hill View Drive, Orchard Heights, Oakfield Heights.
Limerick Road, Newtownbarry, Kilmallock Road, Cedar Court, Deerpark Heights.
Chapel Street, Clancy Terrace, Broad Street (incl. Imperial Mews), Bakers Road, The Orchard, Granary Court.
Ballysally, Station Road, Station Houses, Rathgoggin South.
Coreless, Cooleens, Knockardandrum South, Buttevant Road, Brindle Hill.
Main Street,The Glen, Park View, Park Mews, Jail Lane.
Holy Cross Place.
Kennedy Place, St. Brendan's Drive, St. Oliver Plunkett Place, DeValera Place.
New Line, Glenard, Bishop Browne Terrace, Ivy Close
Harrison Place.
Smiths Street, Glen Haven, Smiths Road, Meadow Vale, Lios na Rí.
Ballyhubba, Fortlands, Knockardandrum N, Kiltoohig, Liscullane, Kippane, Ardnageehy, Clashgannive, Farroshonikeen, Springfort, Ballypierce, Ardmore.
Ballydaheen, Gortskagh, Broghili, Deerpark, Graigues, Ballincolly.